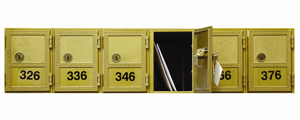 Receive your mail at a safe and reliable place for personal or business use. Mailbox rental at PakMail give you a physical street address (not a POBOX). You can use to receive mail and packages (domestic and international). Moving is not going to imply changing your address and you are way ahead the identity theft protecting your mail.
You are going to be able to pick up you mail during our business hours and we are able to notify you by email when we receive your packages from any of the carriers. They remain secure in our store (not by your front door), where weather and burglars may try to ruin your precious packages.
Get a street commercial address, not a P.O. Box
When you don't want to use your home address, but a PO Box doesn't project the professional image you need, our commercial mailing address is the best for you.
Your Name/Your Business Name
5379 Lyons Rd. #nnn
Coconut Creek, FL 33073
Receive packages from all carriers
We'll hold your packages from any carrier ultil you're ready to pick them up. Any carrier: USPS, FedEx, UPS, DHL and any other or freight companies
Package Notification
You'll be notified when you receive a package by email. This saves you time and delivers peace of mind. Don't wait at home for package delivery or risking valuable shipments being left or your doorstep, or damaged by rain.
Holding and forwarding
Travelling? Don't worry. Let us know and we'll forward your mail with the best carrier and service of your choice.
What do I need to open a mailbox at PakMail Coconut Creek?
PakMail is a Commercial Mail Receiving Agency (CMRA) for the US Postal Service (USPS) and because of that, customers must present two forms of identification, one with a photograph, when completing the form 1583 from the USPS.
Valid types of identification:
Valid driver's license or non-driver's license state ID
Armed forces, goverment, univerisy or recognized corporate ID
Passport or alien registration card or certificate of naturalization
Current lease, mortage or deed
Voter or vehicle registration card
Identification presented must be current. It must contain sufficiente information to confirm that the applicant is who he or she alleges to be and is traceable to the bearer.
The following are non-acceptable form of identification:
Social security cards
Credit Cards
Birth Certificates